Randy Bechdoldt
Searching for the Right Treatment Approach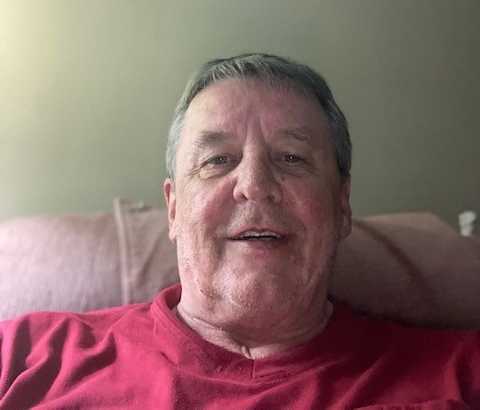 In May 2019, 68-year-old Randy Bechdoldt—father of Brad Bechdoldt, an Advanced Technology Solutions manager at Varian—accidentally knocked himself against his kitchen counter, and it hurt. He discovered that his right testicle was swollen, and it scared him.
Randy lives in Kampsville, Illinois, population 379, a village along the Illinois River that is accessible only by ferry during some parts of the year. "There was a spring flood at the time from prior rains," Randy recalled. "The river runs 100 yards from my house, and it was high." Randy called a friend who works on the ferry; he sent a boat to pick Randy up at his home. His brother-in-law met him there and accompanied Randy to an emergency room. There he was examined, given some drugs, and sent home.
But the situation didn't improve, and so, when the river went down, he headed for the urologist, who did a biopsy. His PSA was 23.9, and his Gleason score was 3+4=7. (A PSA of 4-10 is suspicious and suggests the possibility of prostate cancer. A PSA of 10 and above is dangerous and associated with a 50 percent chance of having prostate cancer. The Gleason score is based on the degree to which the biopsied cells look abnormal. The two scores combined, in this case, were a serious indication of prostate cancer).
Searching for the Right Treatment Approach
"This particular urologist was also a surgeon, and so you can guess what he wanted to do, rather quickly," Randy said. "I wasn't too keen on the idea of surgery in that part of my body—I'm still a young man!" he said. He called his son, who recommended he get another opinion from a Washington University radiation oncologist at Siteman Cancer Center. Siteman is based at Barnes-Jewish Hospital and Washington University School of Medicine in St. Louis, Missouri.
"When I called my son for his advice, he happened to be at ASTRO—the annual scientific meeting of radiation oncologists. He got hold of a doctor he knew personally at Barnes, and they set me up with an initial evaluation by Dr. Gregory R. Vlacich at one of the Barnes satellite locations just 35 miles from my home."
Vlacich, assistant professor of radiation oncology at Washington University School of Medicine in St. Louis and clinical director of the radiation oncology service at Alton Memorial Hospital, recommended hormone replacement therapy (a long course) plus 44 days of external beam radiation—a conventional protocol for treating prostate cancer. Randy, however, wasn't enthusiastic about this plan. For one thing, he didn't want the weight gain and other side effects that would likely come with the hormone shots. And 44 sessions of radiation felt like an awful lot, given the remoteness of his home and the need for daily travel.
The Chosen Course
Enter Dr. Hiram Gay, professor of radiation oncology at Washington University School of Medicine, who sees patients at Siteman Cancer Center in Saint Louis. He and Dr. Vlacich came up with an alternate plan to do six months of hormone therapy, plus a course of HDR brachytherapy, followed by just 25 days of external beam radiation. By combining the HDR brachytherapy with the external beam radiotherapy, the full tumoricidal dose could be delivered to Randy's prostate in significantly less time.
HDR brachytherapy is more invasive than external beam radiation therapy, but it's over fast. During HDR brachytherapy, the patient is anaesthetized, and multiple catheters are inserted into the prostate through the perineum. A radiation source is passed down each catheter to the prostate and left in place for a short period to destroy cancer cells. Then the radiation source is retracted, and the catheters are removed. Dr. Vlacich wanted to be sure Randy understood that this would involve some discomfort during post-procedure healing. Randy didn't care. "I'm a strong guy," he said. "Let's get this over with."
So, Dr. Vlacich gave Randy his first shot of Lupron—the hormone treatment that slows the growth of cancer cells—and sent him up to Dr. Gay in Saint Louis for the HDR brachytherapy procedure. A short while later, Randy returned to the closer satellite facility for the 25 sessions of external beam radiation therapy.
Celebrating the Results
Randy reports virtually no side effects of the radiation. "I wasn't tired; I didn't get tissue damage. I want to give the doctors and the staff at Barnes a plug. They're very caring, wonderful people. On the day I finished my treatment, they brought me a bouquet and a cake to celebrate," he said.
"And guess who else was standing there? My son had told me he had to be somewhere else. When I turned my head to climb down off the table for the last time, I saw a pair of men's boots and thought: 'Who the heck is that?' It was my son!"
During his six-month follow-up visit, Randy's PSA level had gone to zero, and it stayed there. "I think this next one will be my last six-month check-up, and we'll drop to yearly after that," he said. "The effects of the hormone shots are subsiding—no more hot flashes. I get better every day."
Disclaimer: Patient story represents the patient's genuine experience and has not been influenced by Varian. Individual results may vary.