Nivedita Rajasekhar
Eight-Year-Old Nivedita: Growing Up Without Fear of Cancer
Nivedita Rajasekhar is a happy eight-year old whose favorite color is yellow. She lives in India with her parents and younger brother, with whom she loves to play. She dreams of becoming a medical doctor. Nivedita's life is full of color, and her future seems promising – all thanks to a talented clinical team and Varian's technology, six years ago.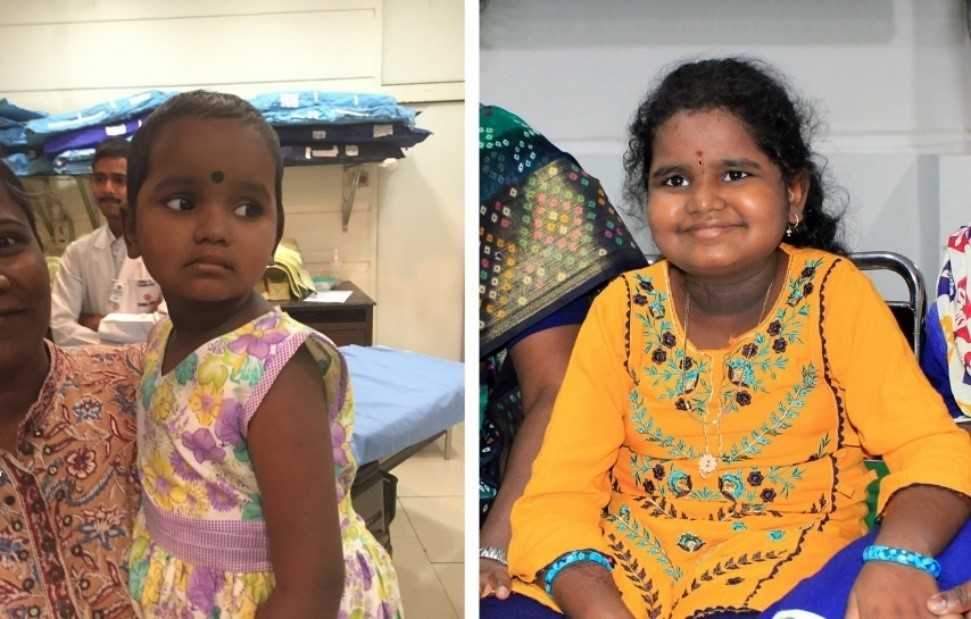 Photos: Nivedita Rajasekhar in 2015, when she was diagnosed and treated for a Medulloblastoma (left), and in January 2021, during a visit at Yashoda Hospitals, Hyderabad, India (right).
2015: From Diagnosis to RapidArc® Radiotherapy
In 2015, the Rajasekhar family was given the news that no family ever wants to hear: their three-year-old daughter, Nivedita, had been diagnosed with medulloblastoma. It is the most frequent malignant tumor of the central nervous system in childhood. It mainly affects young people with about half of the cases occurring in children under 5 years old.1
Nivedita was referred to Yashoda Hospitals, Hyderabad, the first center in India to offer Varian's RapidArc® technology. According to the hospital, the enhanced speed and precision of RapidArc enabled many more cancer patients like Nivedita to be treated with no more waiting lists.
Nivedita underwent cranio-spinal irradiation for the medulloblastoma, and the clinical team was thrilled with the positive outcome. According to her father, Nivedita recovered well from her treatment and was running around like any other three-year-old within just a few months.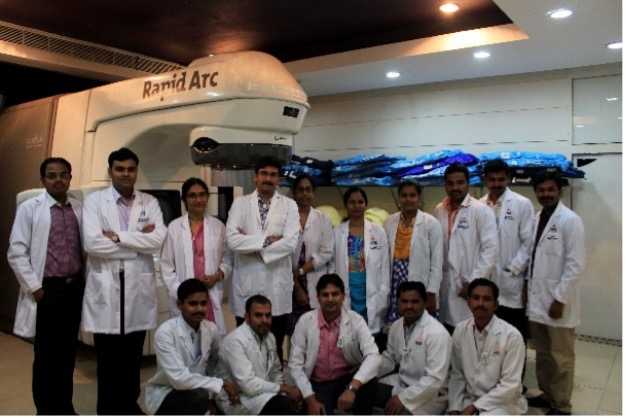 Photos: Yashoda Hospitals' clinical team responsible for treating Nivedita in 2015.
10,000th RapidArc Patient
The treatment results weren't the only good news for the Rajasekhar family. Nivedita happened to be the 10,000th patient to undergo RapidArc radiotherapy at Yashoda Hospitals and her story featured in Varian 2015 Annual report. To mark that milestone, the hospital management decided to organize a special event to present the family with a monetary gift to support Nivedita's future educational needs. A star actor was also invited to the event that captured the local media's interest.
Photo: Nivedita's successful treatment got featured in the local media in 2015.
2021: Growing Up Without Fear of Cancer
Nivedita is doing well six years after the cancer treatment that saved her life. She loves to sing and play just like any other child her age, and cancer seems like a distant memory. During a routine visit to the hospital, in January 2021, the clinical team had the opportunity to exchange a few words with Nivedita and even take a few pictures.
"I am thankful to all the doctors who treated me when I was younger," said Nivedita. "I'm thriving and am excited about the bright future ahead of me."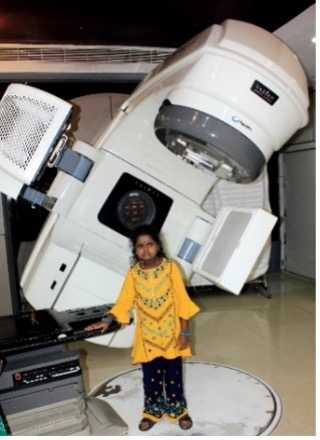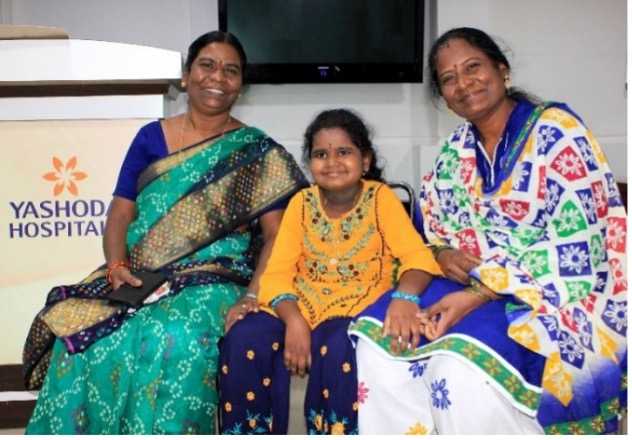 Photos: In January 2021, Nivedita visited Yashoda Hospitals with her mother and aunt. A great opportunity to capture Nivedita's smile on camera.
1. Carta R, Del Baldo G, Miele E, Po A, Besharat ZM, Nazio F, Colafati GS, Piccirilli E, Agolini E, Rinelli M, Lodi M, Cacchione A, Carai A, Boccuto L, Ferretti E, Locatelli F and Mastronuzzi A (2020) Cancer Predisposition Syndromes and Medulloblastoma in the Molecular Era. Front. Oncol. 10:566822. doi: 10.3389/fonc.2020.566822 https://www.frontiersin.org/articles/10.3389/fonc.2020.566822/full
Disclaimer: Patient story represents the patient's genuine experience and has not been influenced by Varian. Individual results may vary.